Winner will receive a $80,000 prize package from Contender Boats Inc. and Yamaha for catching the competition's first West Marine STAR Tagged Redfish in St. Lucie County
Orlando, Fla. – June 14, 2021 – Today, CCA Florida, the state's leading organization dedicated to marine fisheries conservation, education and advocacy, named and verified the first winner of the CCA Florida STAR West Marine Tagged Redfish Division, Ken Clarke from Fort Pierce, who will receive a prize package from Contender Boats and Yamaha Outboards valued at more than $80,000.
A CCA Florida STAR registrant and CCA Florida member, Clarke caught a 20" West Marine STAR Tagged Redfish (Tag No. FL1893) while fishing from a dock with live shrimp near St. Lucie Village in St. Lucie County last Thursday. A first-time STAR participant and new CCA Florida member, Clarke immediately notified the organization, per Division rules, to begin the verification process.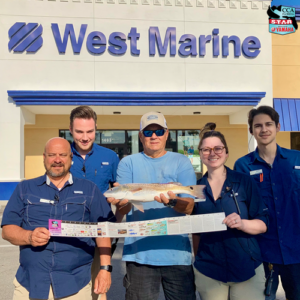 "I read the rules and knew I needed to follow them, and after I submitted my catch through the STAR app, the excitement began to set in," Ken Clarke said. "I'm still in shock and incredibly fortunate to be the first registered angler to win. I can't wait to take out my new Contender 22 Sport with 250HP Yamaha motor on the water."
This year, nearly 160 West Marine Tagged Redfish were released across Florida's coastal waters giving participants more opportunities to win. Remaining prizes in the West Marine Tagged Redfish Division include a Pathfinder 2200 TRS with Minn Kota trolling motor, Humminbird electronics and a Spyder Vapor 19FX all powered by Yamaha. Additionally, STAR's other tagged division, the Tigress Outriggers & Gear Tagged Dolphin Division, will award $10,000 to the first registrant to catch a tagged dolphin.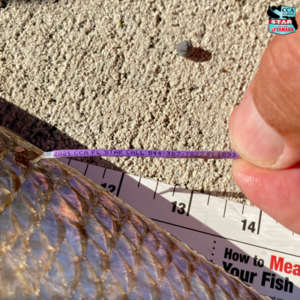 Unlike traditional fishing competitions, CCA Florida STAR presented by Yamaha focuses on conservation and offers $500,000 in prizes and scholarships during the 101-day event. Recognized as a "catch, photo and release" competition, STAR's smart phone app eliminates the requirement for anglers to harvest or capture and transport fish.
"Our state's fisheries are here for our enjoyment, and CCA Florida understands that smart fishing can help restore, preserve and improve marine habitats and water quality for today and tomorrow," CCA Florida STAR Director Leiza Fitzgerald said. "Implementing a catch-photo-release competition is just one way to continue fulfilling our organization's mission and protect our coastal waterways."
STAR is also focused on youth participation, with its Youth Scholarship Division presented by Academy Sports + Outdoors, offering more $100,000 in scholarships. Youth anglers (ages 6-17) can register for free with a current CCA Florida youth membership ($10)
and are eligible for prizes in both tagged divisions. Prizes for the first two youth anglers in the West Marine Tagged Redfish Division include a Salt Marsh Skiff 1656 powered with a Yamaha 40 HP motor and trailer, and the first registered youth angler who catches one of 20 tagged dolphin (mahi mahi) is eligible to win a $10,000 scholarship in the Tigress Outrigger & Gear Tagged Dolphin Division.
The STAR competition includes 17 divisions and 12 species and most winners determined by random drawing, giving anglers of all ages and skill levels the opportunity to win. Registration is $40 for current CCA Florida members or $75 for non-members.
For more information or to register for STAR, visit our Facebook page or ccaflstar.com.
Contact: Mary Hillyer Peelen|407-617-0604| mhpeelen@ccaflorida.org
###
About CCA Florida
The Coastal Conservation Association (CCA) was founded in 1977 after drastic commercial overfishing along the Texas coast decimated redfish and speckled trout populations. One of 19 state chapters, CCA Florida became the fifth state chapter in 1985. A 501(c)3 non-profit, the purpose of CCA is to advise and educate the public on conservation of marine resources. Through habitat restoration projects, water quality initiatives and fisheries advocacy, CCA Florida works with its over 19,000 members including recreational anglers and outdoor enthusiasts to conserve and enhance marine resources and coastal environments. Join the conversation on Facebook or learn more at ccaflorida.org.